CLEP Testing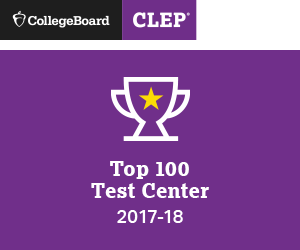 CLEP is a national program that allows students to obtain credit by examination. CLEP exams cover material taught in courses that most students take as requirements in the first two years of college. Each exam is 90-120 minutes long and is made up primarily of multiple-choice questions, though some exams do have fill-ins. Note that examinations in composition and literature have an additional 70- or 90-minute essay section, depending on the title of the exam.
Taking the CLEP
Follow the steps below to take CLEP exams through APU's Testing Services (you do not have to be an APU student to take a CLEP exam through APU's Testing Services):
Step 1
Visit the CLEP website, create an account, and register and pay for your selected exam (the CLEP fee is $89 per exam). After you pay, you will need to print your registration ticket and bring it with you on the day of your exam.
Step 2
Schedule your exam and pay the proctoring fee (nonrefundable, nontransferable) using our online scheduling system. The proctoring fee is in addition to the CLEP exam fee, and your appointment is not confirmed until the proctoring fee is paid. If you do not pay your proctoring fee within 3 days of your appointment, your appointment will be canceled.
Step 3
Study material suggestions are available through the CLEP website.
Step 4
On your test day, if you are driving onto campus without a parking decal, go to Campus Safety (in Adams Hall) to obtain a visitor's parking pass. Afterward, go to Testing Services (just east of Campus Safety) and bring your CLEP registration ticket and a current government-issued ID. Plan on being here for 2-3 hours (depending on exam type).
Step 5
After you have completed your CLEP exam, you will receive an unofficial score report (except for composition and literature exams that may require an essay). The official score transcript will be sent to your designated score recipient(s) about 2-3 weeks after your exam date.
Note for APU Students
Refer to the APU Credit for College Level Examination Program sheet for a list of CLEP exams you can take for credit.
Frequently Asked Questions
How many credits can I earn through CLEP at APU?
An unlimited number of credits can be earned through CLEP at APU, but before registering for an exam, check our APU Credit for College Level Examination Program Google Doc to ensure that APU offers an equivalent course for the earned CLEP units.
How many exams are available through CLEP?
CLEP currently offers 33 exams. Visit the College Board website for a complete listing, as well as descriptions of each exam.
Will APU accept CLEP credits anytime, even in my final semester before graduation?
APU will accept CLEP credits anytime. While the institution does not recommend taking a CLEP test during a student's final semester before graduation, APU will accept credits earned via CLEP during a final semester.
Note: It is best to complete CLEP credits prior to the final semester of graduation just in case the CLEP test does not yield the number of credits expected!
Will I receive my score report immediately after taking a CLEP exam?
You will receive an immediate unofficial score report for CLEP exams, except for exams with essays, such as Analyzing and Interpreting Literature. For exams where there is an optional essay required by your institution, you will receive your score for the multiple-choice section, but you will not receive scores for your essays until after your institution scores them. Your official CLEP transcript will be sent to the APU registrar's office 3-4 weeks after your exam. Learn more about your score.
I just took the Analyzing and Interpreting Literature exam. How long does my institution have to wait for my score report?
Once you take the Analyzing and Interpreting Literature exam, your exam is scored by trained college faculty. Your institution will receive your score report 3-4 weeks after your test date.
Is there a waiting period for retaking a CLEP exam?
Yes. The waiting period is three months. You may not repeat an exam of the same title within three months of the initial testing date. If you retake the exam within the three-month period, your administration will be considered invalid, your score will be canceled, and any test fees will be forfeited.
I need special test accommodations. How can I request those?
If you have a documented learning or physical disability that would prevent you from taking a CLEP exam under standard conditions, you may request testing accommodations. Information about requesting testing accommodations can be found in your account on CollegeBoard.org, under How to Register for a CLEP Exam. Please note that students requesting accommodations must provide documentation verifying their need for accommodation. Contact your preferred test center well in advance of the test date to make the necessary arrangements and to find out its deadline for submission of documentation and approval of accommodations. Accommodations that can be arranged directly with test centers include:
ZoomText (screen magnification)
Modifiable screen colors
Use of a reader, amanuensis, or a sign language interpreter
Extended time
Untimed rest breaks
If the above accommodations do not meet your needs, do not register online for your exam. Contact CLEP Services at clep@info.collegeboard.org for information about other accommodations.
I am a member/veteran of the military. Is the CLEP registration process the same for me?
The CLEP process for military personnel differs in several ways from that of civillian students. To learn more about the process for military personnel, visit CLEP Military Benefits and/or contact CLEP with further questions.
For additional information, visit the About CLEP. If you still aren't able to find answers to your questions, contact CLEP directly:
CLEP
PO Box 6600
Princeton, NJ 08541-6600
Phone: (800) 257-9558 (8 a.m.-6 p.m. ET, M–F)
Fax: (610) 628-3726
Email: clep@info.collegeboard.org
Be sure to include your name, address, and telephone number in any communication.