College of the Arts
Azusa Pacific University College of the Arts is the premiere college on the world stage creating exceptional artistry and scholarship grounded in faith. Guided by our expert faculty and benefiting from APU's close proximity to Los Angeles, students experience invaluable learning opportunities.
Weaving industry experiences into the educational tapestry of our students' learning is one of the distinctives of the College of the Arts at APU. As a result, our students graduate and find prominence within their field. Peruse our programs and discover how we are committed to making a difference in the world.
Instagram: Stay Up to Date
See What's in the Spotlight
There's a lot going on with APU's College of the Arts. View the latest issue of our Monthly Spotlight newsletter to stay up to date on all of the news, events, and accomplishments of our students, alumni, and faculty.
View Newsletter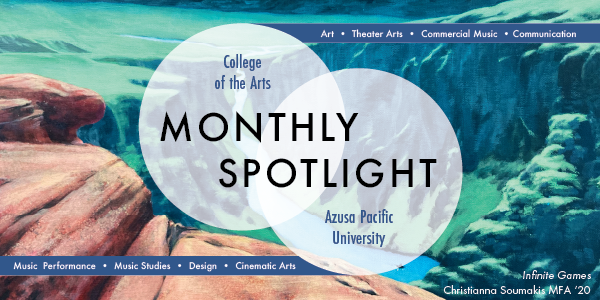 Articles