Prepare to Help Individuals Thrive With a Social Work Degree
Azusa Pacific's Department of Social Work offers a Bachelor of Social Work and a Master of Social Work in a community committed to social, economic, and environmental justice. Our richly diverse student body and faculty form a rigorous and highly supportive learning environment. Our goal is to help connect students to their passion for a career dedicated to making a difference in the lives of individuals and communities. APU social work students graduate highly skilled and equipped to provide leadership for innovative social change.
At APU, our Christian commitment calls us to advocate for justice, strive for racial equity, and pursue excellence in our social work practice. We care about restoration of the whole person—mind, body, and spirit. Our highly experienced faculty integrate faith and spirituality with their social work expertise to prepare students to be the next generation of leaders, both locally and globally.
Department at a Glance
Students

MSW: 246
BSW: 95
First-Generation: 70%
Minority: 77%

Faculty

Full-Time: 19
Adjunct: 29

Internships

193 sites for students to put learning into practice
4 counties where students serve in a variety of social work capacities
97,740 service hours completed annually
Students in APU's social work programs benefit from:
Small classes that allow you to build close relationships with each other and with faculty-mentors representing diverse backgrounds who bring relevant experience into the classroom.
Use of live simulation, internships, and other real-world experiences to put learning into practice.
Scholarship opportunities to help make your degree more affordable.
A part-time option at the graduate level to support working students.
Master of Social Work
The MSW program equips social work professionals for careers dedicated to improving the lives of others in a variety of settings, including advanced-level practitioners, clinicians, therapists, supervisors, and managers, as well as leadership roles in community and program development. A combination of rigorous coursework and internship opportunities provide the tools you will need to help others thrive. Full-time, part-time, and Advanced Standing options are available.
Choose a specialization and select elective courses to focus your studies:
Clinical Practice with Individuals and Families
Community Leadership and Program Administration
Bachelor of Social Work
The social work major prepares students with knowledge, values, and skills for generalist social work professional practice in work with diverse individuals, families, groups, and communities, both locally and globally.
Meet the Faculty: Mary Rawlings, PhD, LCSW
Department Values and Cornerstones
Four values and cornerstones guide the Department of Social Work's mission: competence, character, critical thinking, and community.
Competence: Training competent social workers is central to our mission. By offering current curriculum, competitive internships, and innovative teaching strategies, our students develop skills as competent social workers. Current innovations include coursework in military social work and clinical Spanish, skills testing with live actors, engagement with community projects and research, agency-based leadership capstone projects, and ongoing development of new interdisciplinary internship sites.
Character: We hold to high standards of professionalism in our students. We adhere to the National Association of Social Work Code of Ethics and work diligently to prepare and train students in the professional behaviors exemplified by our respected alumni. As a Christ-centered university, we ascribe to the highest level of integrity for faculty and students, including training in ethical decision making to prepare students for the challenges of real-world practice.
Critical Thinking: In a global world where social welfare issues, programs, interventions, and policies can change quickly, we train students to be problem solvers who can effectively engage new trends, research, and technology with confidence and determination. We want students to be independent thinkers so they become leaders in the field of social work.
Community: Joining an APU social work program means joining a community of social workers who care about each other, their local communities, and the world. We strive to keep classes small so students build relationships with each other and with faculty. These synergistic relationships provide a platform for professional mentorship to students throughout their careers, and establish a network of relationships through our alumni who are serving communities all over the world.
Accreditation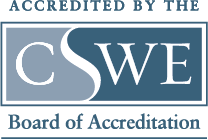 Azusa Pacific University receives accreditation from the WASC Senior College and University Commission (WSCUC). In addition, the BSW and MSW programs are accredited by the Council on Social Work Education (CSWE).
Note: This information is current for the 2023-24 academic year; however, all stated academic information is subject to change. Please refer to the current Academic Catalog for more information.