Alpha Program
The Alpha Program is the first contact during Welcome Weekend for all incoming students! Each semester, all incoming students (first-year and transfer) are placed into Alpha Groups, led by an Alpha Leader (peer orientation leader). The Alpha Leader and Alpha Group exist to support and guide you during your transition to APU throughout the first semester as an APU student. Your leader hosts weekly meetings and it is a great opportunity to meet other students, learn about on-campus resources, and have fun along the way!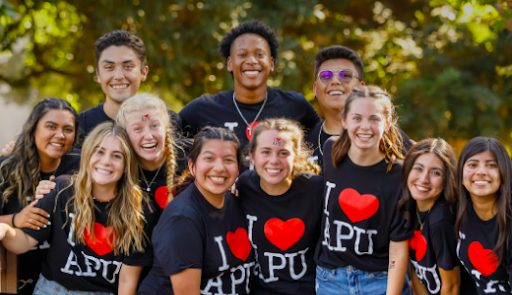 Alpha Program and Welcome Weekend
All incoming students will meet their assigned Alpha Leader during the first night of Welcome Weekend. During Welcome Weekend, we help new students get comfortable with the people and places of APU, setting you up for a successful university transition and experience. Learn more at the Welcome Weekend Website.
What is an Alpha Leader?
An Alpha Leader is an orientation leader that facilitates and supports a group of first-year or transfer students new to APU! Alpha Leaders support the implementation of Welcome Weekend and meet weekly with their groups throughout the fall semester.
What is an Alpha Coordinator?
An Alpha Coordinator serves as a support and resource for all Alpha Leaders throughout the Fall semester!
2023 Alpha Program Student Staff
Alpha Interns: Belle Nervo and Felicia Ryman
Alpha Coordinators: Drew Hamilton, Jane Bach, Johnnie-Jean Navarette, Magen Delgado, Margot Graves, Marybeth Peck, McKenna Dawson, Olivia Redmond